MONO drawing pen set of 3
Line width: 0.24mm, 0.35mm, 0.46mm
Art.-No.: WS-EFL-3P
Free delivery in Germany for orders over €19.50.
A flat delivery fee of €2.80 per order applies for all orders under €19.50.
Free delivery for international (FR, BE, NL, LUX) orders from €29.
The fineliner MONO drawing pen is suitable for technical drawings, illustrations, outlines, comics, Manga, sketch notes, doodling, urban sketching and much more. Each pen has a line width of 01 (approx. 0.24 mm), 03 (approx. 0.35 mm) and 05 (approx. 0.46 mm). Due to the long metal nib the fineliner is convenient for utilizing templates and rulers. Pigment- and waterbased ink. Color: black.
Similar products and accessories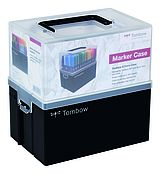 Brush Pen & Marker
Marker case for uo to 108 ABT Dual Brush pens or other Tombow pens

Felt-tip pen & Fineliner
The fineliner for exact lines is available in three line widths and rich black. Long metal tip particularly suitable for stencils and rulers.