Free delivery in Germany for orders over €19.50.
A flat delivery fee of €2.80 per order applies for all orders under €19.50.
Free delivery for international (FR, BE, NL, LUX) orders from €29.

Dimensions of the box in millimeters: width: 208/ depth: 219/ height: 147.
Creativity to go! 108 ABT Dual Brush Pens or other Tombow pens can be stored and carried when out and about using the practical pen box. For a better overview, the three elements can be opened and arranged side by side.
Similar products and accessories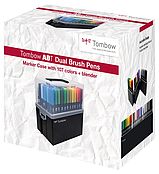 Brush Pen & Marker
All 107 ABT Dual Brush pens + blender pen in handy marker case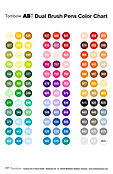 Paper & More
Palette for blending water-based ink, such as the ABT Dual Brush Pens.