Watercolor set Greenery + Watercolor paper
Writing Color: Watercolor Greenery
Art.-No.: WCS-GR-Bundle
Free delivery in Germany for orders over €19.50.
A flat delivery fee of €2.80 per order applies for all orders under €19.50.
Free delivery for international (FR, BE, NL, LUX) orders from €29.

The set contains five ABT Dual Brush Pens with a fine tip and a brush tip for variable stroke widths. You can mix the colors in advance on the blending palette included and then pick them up and apply them with the water brush, creating a watercolor effect. With the MONO 100 pencil and MONO dust CATCH eraser, you sketch your illustrations and then erase the guidelines again without eraser fragments. Finally, you can add outlines to your illustration with the MONO fineliner drawing pen.
High-quality watercolor paper. 24 x 32 cm (9.4 x 12.6 inch). 300 g/m² (140 lbs). Cream white, hot pressed paper. Ideal for using the ABT Dual Brush Pens as water colors, as well as for all wet and some dry techniques. The stability and strength of the paper offers excellent flatness when wet and easy application of color. Acid-free, lightfast and age-resistant. 15 sheets.

Watercoloring Set Floral contains: ABT-192, 757, 772, 910, 991, WS-EFL03 (line thickness 0.35 mm), MONO 100 hard (MONO-100-H), MONO dust CATCH (EN-DC), water brush medium (WB-ME-1P), blending palette, instructions

Watercoloring Set Greenery contains: 1× ABT-098, 228, 249, 312, N52, WS-EFL01 (line thickness 0.24mm), MONO 100 hard (MONO-100-H), MONO dust CATCH (EN-DC), water brush fine (WB-FN-1P), blending palette, instructions.
Whether floral illustrations or trendy plants such as Monstera, Pilea, and succulents – with the watercolor sets, you are ideally equipped for your watercolor illustrations. The sets have been designed and put together by the artistic duo May & Berry, and include a small set of instructions with tips and tricks from the pros.
Similar products and accessories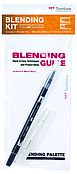 Paper & More
Four practical utensils for mixing water-based colours and creating colour gradients. Contents: 1 x blender pen, blending mister, blending palette + blending technique instructions.