Fudenosuke Color neon blue
Writing Color: 96_neonblue
Packaging: Bundle
Art.-No.: WS-BH96
Free delivery in Germany for orders over €19.50.
A flat delivery fee of €2.80 per order applies for all orders under €19.50.
Free delivery for international (FR, BE, NL, LUX) orders from €29.


A little tip: try neon red, neon pink, neon orange, neon yellow, or neon green under black light and be amazed!
Whether individual neon elements or full neon illustrations. With Fudenosuke in neon colors, you are always creating a highlight. The brush pen is ideal for calligraphy and hand lettering, as well as colorful outlines for sketches and sketchnotes. The line thickness varies from very fine to wide by changing the pressure on the tip. With the comparatively hard tip, the applied pressure can be particularly well controlled, meaning that even very delicate lines are easy to draw. The ink is water-based with color pigments and is odorless.
Similar products and accessories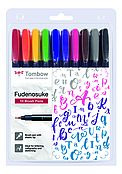 Brush Pen & Marker
With elastic tip for variable line widths – from very narrow to very wide. Water-based pigment ink. All 10 colors in one set.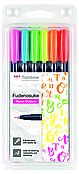 Brush Pen & Marker
Vibrant lettering and dynamic illustrations with variable stroke widths thanks to flexible brush tip. Six different neon colors available.

Brush Pen & Marker
With two elastic tips for variable line width. – from very narrow to very wide. Two soft tip especially suitable for larger writings.