Fudenosuke hard tip 10 pcs. set
Free delivery in Germany for orders over €29.
A flat delivery fee of €4 per order applies for all orders under €29.
Free delivery for international orders from €45.
Brush Pen Fudenosuke set of 10 colours. The Fudenosuke brush pen has an elastic brush tip and is especially suited for calligraphy, sketchnotes, hand lettering, doodling and much more. Hard tip is especially suited for small letterings and embellishments. Waterbased ink with colour pigments. Odourless. Colours: 03 yellow, 07 green, 15 blue, 18 purple, 22 pink, 25 red, 28 orange, 31 brown, 33 black, 49 grey. WS-BH recycling ratio over 50% of gross weight.

Similar products and accessories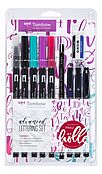 Brush Pen & Marker
€29.15
Take your letterings to the next level with this set of lettering material.
Paper & More
€11.60
Bright white drawing paper for illustrations, drawings, sketches and much more.