Free delivery in Germany for orders over €19.50.
A flat delivery fee of €2.80 per order applies for all orders under €19.50.
Free delivery for international (FR, BE, NL, LUX) orders from €29.
The refillable water brush is a practical tool for watercolor techniques. The water flow is controlled by applying pressure to the shaft. The water brush with protective cap is ideal for traveling. Suitable for use with ABT Dual Brush Pens and other water-based paints. For watercolor, aquarelle, lettering, illustrations, urban sketching, manga, and much more. The water brush is delivered empty and can easily be refilled by screwing on the container. The tip is easy to clean with water.

Similar products and accessories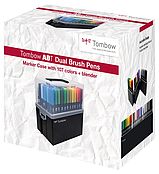 Brush Pen & Marker
All 107 ABT Dual Brush pens + blender pen in handy marker case

Brush Pen & Marker Webshop products
With two tips (brush tip + fine tip) for maximum creativity. Water-based colors for handlettering, watercoloring and illustrations. Available in 107 colors + Blender.

Paper & More
Refillable water tank brush is a practical tool for watercolour techniques, especially in combination with water-based Brush Pens like the ABT Dual Brush Pen. 3 different brush tips available.