Tombow ABT Dual Brush Pen marker case
Free delivery in Germany for orders over €19.50.
A flat delivery fee of €2.80 per order applies for all orders under €19.50.
Free delivery for international (FR, BE, NL, LUX) orders from €29.


The ABT Dual Brush Pens have two tips: the fine tip (line width 0.8 mm) is used wherever precise line guidance is required, while the second tip (line width 0.8 mm-3.3 mm) is as wide and flexible as a brush. The ink is water-based. This allows the colors to be mixed together and used as watercolors with amazing color gradients. They are perfect for hand lettering, watercolors, illustrations, stamp/card design, comic/manga drawing, journalling, coloring in mandalas and much more. The colors are acid-free, non-toxic and odourless. Light fastness is not guaranteed.

The pen box contains all 107 ABT Dual Brush Pen colors + Blender Pen. Dimensions of the box in millimeter: width: 208/ depth: 219/ height: 147
Creativity to go! 108 ABT Dual Brush Pen colors can be stored and carried when out and about using the practical pen box. For a better overview, the three elements can be opened and arranged side by side.
Similar products and accessories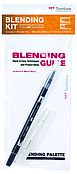 Paper & More
Four practical utensils for mixing water-based colours and creating colour gradients. Contents: 1 x blender pen, blending mister, blending palette + blending technique instructions.