Free delivery in Germany for orders over €19.50.
A flat delivery fee of €2.80 per order applies for all orders under €19.50.
Free delivery for international (FR, BE, NL, LUX) orders from €29.
Practical tool to blend colours and to create colour transitions and gradients. Refillable, compact bottle to sprinkle blending palette or paper with water. Especially suitable when drawing with ABT Dual Brush Pen and of course also for all other, waterbased inks. Capacity: 8 ml. Refillable.
Similar products and accessories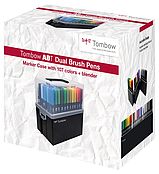 Brush Pen & Marker
All 107 ABT Dual Brush pens + blender pen in handy marker case

Brush Pen & Marker Webshop products
With two tips (brush tip + fine tip) for maximum creativity. Water-based colors for handlettering, watercoloring and illustrations. Available in 107 colors + Blender.