MONO edge purple
Writing Color: purple
Barrel Color: black
Line width: 0.5 mm + 3.8 mm
Packaging: Single
Art.-No.: WA-TC97
Free delivery in Germany for orders over €19.50.
A flat delivery fee of €2.80 per order applies for all orders under €19.50.
Free delivery for international (FR, BE, NL, LUX) orders from €29.
Creative highlighter with two tips – a broad chisel tip (3.8 mm) and an extra-fine round tip (0.5 mm). The polymer coating prevents the tips from breaking, drawing uneven lines, or staining rulers, which may lead to staining the surroundings and the tips of other pens. The vibrant colors are perfect for color-coding and decorating planners, journals, and notebooks, as well as for particularly intense illustrations. Thanks to the water-based ink, they do not show through on most types of paper. The ink is also fast-drying. Plastic parts made of over 70% recycled material.*
*Consumable parts (refill pipe of pens or PET film of correction or glue tapes) are not included in the term "Plastic parts"

Similar products and accessories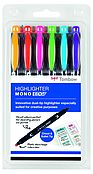 Felt-tip pen & Fineliner
Innovative dual-tip highlighter with protected tips, especially suitable for creative purposes.