MONO MULTI liquid glue blister
Packaging: Blister
Art.-No.: PT-MTC
Free delivery in Germany for orders over €29.
A flat delivery fee of €4 per order applies for all orders under €29.
Free delivery for international orders from €45.
Two tips for the best gluing experience: Fine tip for pinpoint gluing; wide tip for extensive application. The PT-MTC glues ultra-strong, clean on paper, cardboard, photos, tape, felt, moss and much more. Acid free, photo proof and washable. Contains 25 g. For durable and repositionable gluing.
For repositionable gluing:
Apply a thin layer of glue
Let the glue dry completely (2-3 min.)
Press the apllication on the glue layer and reposition it if necesary.
For permanent gluing:
Apply a thin layer of glue
Press the apllication on the glue layer whilst still moisture.
WARNING
May cause an allergic skin reaction.
IF ON SKIN: Wash with plenty of water.
If skin irritation or rash occurs: Get medical advice.
CAS-Nr: 2682-20-4
2-methyl-2H-isothiazol-3-one

UFI: Q600-604U-600U-553E

Similar products and accessories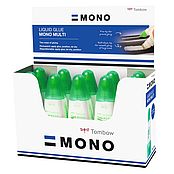 Glue
€43.67
Extremely versatile with its two tips – a fine tip for precise gluing and a wide tip for large-area application. For permanent or removable gluing on a range of materials.