MONO maxi power tape refill
Free delivery in Germany for orders over €19.50.
A flat delivery fee of €2.80 per order applies for all orders under €19.50.
Free delivery for international (FR, BE, NL, LUX) orders from €29.
The better way to glue: The refillable MONO maxi power tape for super-strong, clean, precise, fast and wrinkle-free gluing. With new, extra-strong glue and extra-long tape of 16 m. Unique technology ensures that the glue is exactly at the tip - for precise gluing of edges and corners. Tear-proof tape (PET) - can be dispensed down to the last millimetre. Perfect for paper, cardboard, photos, plastic, glass and much more. The glue is acid-free and photosafe. An integrated cap protects the tape from dust and dirt. Tape: 8,4 mm x 16 m. Easy and quick to refill. Plastic parts made of over 70% recycled material.*
*Consumable parts (refill pipe of pens or PET film of correction or glue tapes) are not included in the term "Plastic parts"

Similar products and accessories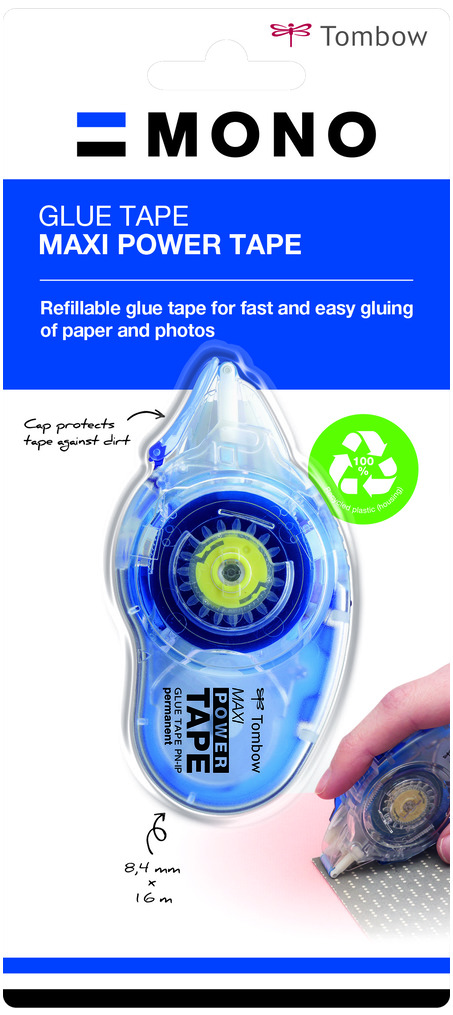 Glue
For endless and extra powerful gluing: Refillable and with unusually long 16 meter-tape. Neat, accurate and extra powerful gluing on paper: Cardboard, paper, photos, glass and many other materials.