Free delivery in Germany for orders over €29
A flat delivery fee of €4 per order applies for all orders under €29.
Free delivery for international orders from €100.
For flexible gluing: The refillable glue roller PN-MK has a non-permanten glue tape. The glue roller sits comfortably in the hand due to its ergonomic shape. Tear-proof tape (PET) - can be dispensed down to the last millimetre. For strong, clean and precise gluing of paper, cardboard, photos and much more. The glue is acid-free and photosafe. A cap protects the tape from dust and dirt. Recycling ratio over 60% of gross weight. Tape: 8,4 mm x 12 m. Refill: PR-MK.
Similar products and accessories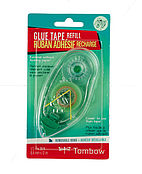 Glue
€4.05
Refill cartridge for PN-MK with removable adhesive tape. Neat, accurate and powerful gluing on paper: Photos, paper, tapes, styrofoam and many other materials.