Free delivery in Germany for orders over €19.50.
A flat delivery fee of €2.80 per order applies for all orders under €19.50.
Free delivery for international (FR, BE, NL, LUX) orders from €29.
The smooth paper of the Bristol block is particularly suitable for sensitive brush tips, such as the one found on the ABT Dual Brush Pens. The bright white paper lets the colors shine and is particularly suitable for scanning in your works of art. Thanks to its weight of 250g/m² and high opacity (lack of transparency), it is particularly suitable for creating special works of art or folded cards. It can be used for dry and liquid drawing media such as water-based brush pens, alcohol-based markers, fineliners, as well as graphite and colored pencils. The paper is acid-free and can withstand heavy erasing.
Similar products and accessories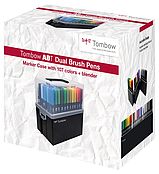 Brush Pen & Marker
All 107 ABT Dual Brush pens + blender pen in handy marker case
Pencils
Top quality pencil with superb varnish finish, available in 17 degrees of hardness. Offers unusual contrast due to extra dark, high density graphite lead.