Aquarelle paper 24 x 32cm
Free delivery in Germany for orders over €19.50.
A flat delivery fee of €2.80 per order applies for all orders under €19.50.
Free delivery for international (FR, BE, NL, LUX) orders from €29.
The watercolor pad in size 24 x 32 cm is cream white and satinized, making it particularly gentle on the brush tips of the ABT Dual Brush Pens. Thanks to its double-sided gluing, the paper remains free of ripples after applying water.
Similar products and accessories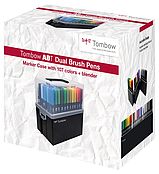 Brush Pen & Marker
All 107 ABT Dual Brush pens + blender pen in handy marker case
Paper & More
Four practical utensils for mixing water-based colours and creating colour gradients. Contents: 1 x blender pen, blending mister, blending palette + blending technique instructions.