MONO YT4 blister
Packaging: Blister
Art.-No.: CT-YT4
Free delivery in Germany for orders over €19.50.
A flat delivery fee of €2.80 per order applies for all orders under €19.50.
Free delivery for international (FR, BE, NL, LUX) orders from €29.
The original MONO correction tape has been the first for what the sideway-correction is concerned. The natural, ergonomic posture guarantees a comfortable and precise correction. No drying time - can be written over instantly and cleanly. Due to the "Tombow Coating Technology" even cleaner re-writing is possible. Tear-proof tape (PET) - can be dispensed down to the last millimetre. With the help of the easy to use reset button the tape can, if necessary, be tightened (Tape control system). Recycling ratio over 60% of gross weight. Awarded with the iF product design award and the red dot design award in 1996. Tape: 4.2 mm x 10 m.
Similar products and accessories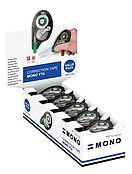 Correction Tape
Lateral roller technique and an ergonomic design ensure pleasant and precise correction.