MONO YSE4
Tape Width: 0.0042
Art.-No.: CT-YSE4
Free delivery in Germany for orders over €19.50.
A flat delivery fee of €2.80 per order applies for all orders under €19.50.
Free delivery for international (FR, BE, NL, LUX) orders from €29.
The evolutionary sideway: a hybrid of the sideways-correction tape and a slim body. Precise and convenient corrections using lateral dispensing technoligy. No drying time - can be written over instantly and cleanly. Due to the "Tombow Coating Technology" even cleaner re-writing is possible. Tear-proof tape (PET) - can be dispensed down to the last millimetre. With the help of the easy to use reset button the tape can, if necessary, be tightened (Tape control system). Pivoting head with slide cap (protection cap). Clean and easy application even on uneven surfaces with a flexibly mounted tip. Extractable protective cap. Can be dispensed down to the last milimetre. Thin form - fits into pen holders, shirt pockets and many other places. Housing made of 100% recycled plastic. Awarded with the iF product design award 2011. Comfortable tape length of 12 m with two different widths: 4,2 mm tape width - perfect for printed text, 6 mm tape width - perfect for handwritten text.
Similar products and accessories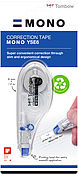 Correction Tape
A slender shape and lateral roller technique ensure pleasant and precise correction.