MONO YXE4 refill
Tape Width: 0.0042
Art.-No.: CT-YRE4
Free delivery in Germany for orders over €19.50.
A flat delivery fee of €2.80 per order applies for all orders under €19.50.
Free delivery for international (FR, BE, NL, LUX) orders from €29.
The egological sideway: The original MONO correction tape has been the first for what the sideways-correction is concerned - now available in the refillable version. Extra long 16 m tape. The natural, ergonomic posture guarantees a comfortable and precise correction. No drying time - can be written over instantly and cleanly. Due to the "Tombow Coating Technology" even cleaner re-writing is possible. Tear-proof tape (PET) - can be dispensed down to the last millimetre. With the help of the easy to use reset button the tape can, if necessary, be tightened (Tape control system). Easy to Refill.
CT-YRE4 Tape: 4.2 mm x 16 m. Recycling ratio over 60% of gross weight.
CT-YRE6 Tape: 6 mm x 16 m. Recycling ratio over 50% of gross weight

Similar products and accessories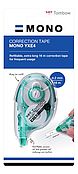 Correction Tape
For endless correction: Refillable and with extra long 16 meter-tape. Covers perfectly and can be overwritten immediately.