MONO office refill
Tape Width: 0.0042
Art.-No.: CT-CRE4
Free delivery in Germany for orders over €29.
A flat delivery fee of €4 per order applies for all orders under €29.
Free delivery for international (FR, BE, NL, LUX) orders from €45.
Refill for correction tape MONO office featuring a 14 m tape. Suitable for left- and righthanded users due to centred correction. No drying time – can be written over instantly and cleanly. Tear-proof tape (PET), can be dispensed down to the last millimetre. Extraordinary coverage, no copy or fax shadows. Recycling ratio over 60% of gross weight Tape: 4,2 mm x 14 m.
Similar products and accessories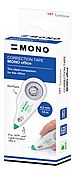 Correction Tape
€4.19
Refillable correction tape with central roller, suitable for left- and righthanded users.