MONO drawing pen 05
Line width: 05 - 0.46 mm
Art.-No.: WS-EFL05
Free delivery in Germany for orders over €19.50.
A flat delivery fee of €2.80 per order applies for all orders under €19.50.
Free delivery for international (FR, BE, NL, LUX) orders from €29.
The fineliner MONO drawing pen is suitable for technical drawing, illustrations, outlines, comics, manga, sketchnotes, doodling, urban sketching and much more. Available in 3 different line widths:Line width 01 (approx. 0.24 mm), line width 03 (approx. 0.35 mm), line width 05 (approx. 0.46 mm).
Due to its long metal tip it can be used for drawing with ruler or stencil. The ink is pigment-based and water-based. Writing color: black.
Similar products and accessories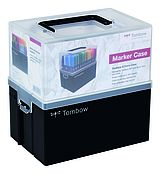 Brush Pen & Marker
Marker case for uo to 108 ABT Dual Brush pens or other Tombow pens

Felt-tip pen & Fineliner
Pack of three fineliners for exakt lines in three different line widths.