Tombow ABT Dual Brush Pen set of 5 Tot-aber-lustig
Free delivery in Germany for orders over €19.50.
A flat delivery fee of €2.80 per order applies for all orders under €19.50.
Free delivery for international (FR, BE, NL, LUX) orders from €29.
Contents: ABT Dual Brush N15 black, 025 lightorange, 533 peacockblue, 665 purple, 969 chocolate + Fudenosuke with hard tip.

Brushpen with two points, with which also watercolor is possible. The fine tip (line thickness 0.8 mm) is used wherever exact lines are required, the second point (line thickness 0.8 mm - 3.3 mm) is wide and as flexible as a brush. Available in 95 brilliant colours + blender. Made from water: the colours can be mixed with each other for watercolours with beautiful continuous colours. Perfect for designing cards, stamp motifs, sketches, strip cartoons, illustrations, hand lettering etc. The colours are acid-free, non-toxic and odourless. No guarantee for resistance to light.

The Fudenosuke Brush Pen with its elastic brush tip is suitable for calligraphy, sketches, sketch notes, doodling, hand lettering etc. The width of the lines varies from very fine to wide, depending on the pressure exerted on the tip. With hard tip (hardness 1) particularly suitable for small typography. The water-based ink contains colour pigments and is odourless. Ink colour: black.
Similar products and accessories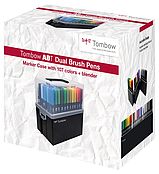 Brush Pen & Marker
All 107 ABT Dual Brush pens + blender pen in handy marker case